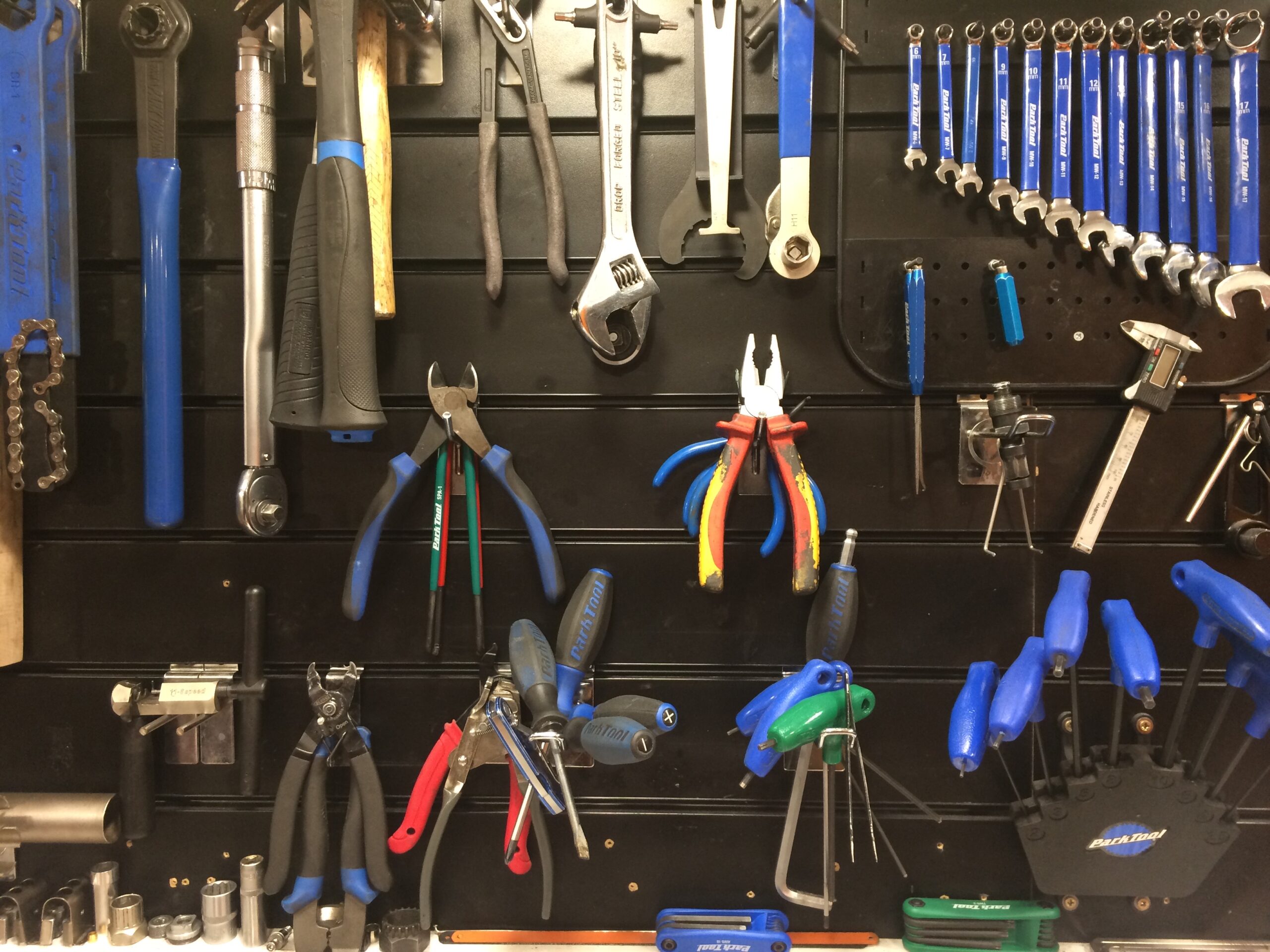 Your bike is in safe hands here at Velosport. We operate a state of the art workshop, with the latest tools and equipment. As keen cyclists ourselves, we know that every ride is that much more enjoyable when your bike is in the best condition possible.
To book your bike in for a service or repair, or for more information, please contact us by clicking the below button. Alternatively, you can call the store on 020 8780 1978. One of our highly trained mechanics will be happy to help.
Service Options
Workshop service
Deluxe
From £190
General
From £120
Basic
From £60
Gears & brakes checked for wear
✅
✅
✅
Chain checked for wear & lubricated
✅
✅
✅
Wheels & tyres checked for wear
✅
✅
✅
Bolts checked for correct torque
✅
✅
✅
Frame & forks inspected
✅
✅
❌
Inner cables replaced
✅
✅
❌
Drivetrain removed, cleaned & checked for wear
✅
✅
❌
Gears & brakes set up
✅
✅
❌
Frame and fork wiped down
✅
✅
❌
Bike stripped to bare frame & cleaned
✅
❌
❌
Wheels trued
✅
❌
❌
Hubs serviced
✅
❌
❌
Headset serviced
✅
❌
❌
Bottom bracket serviced
✅
❌
❌
Bike test ridden post service
✅
❌
❌
*All Prices are starting prices only. Services are quoted on a bike by bike basis.
Additional Repairs
| | |
| --- | --- |
| Fit Tube/Tyre (excludes hub geared wheels) £15 | Headset Service from £30 |
| Tubeless Tyre Fit (per tyre) £20 | Bottom Bracket Service from £30 |
| Fit Brompton Tube/Tyre fit (labour only) £25 | Hub service (excluding Chris King) £30 |
| Hub Gear Tube/Tyre Fitting (labour only) £25 | Chris King Hub service £45 |
| Brake Bleed (per brake) £30 | Wheel Build from £50 |
| Groupset Swap £50 per hour | Wheel true from £20 |
| Build Bike From Frame £50 per hour | Crash Assessment £50 |
| Fit Mudguards £30 (£40 with own mudguards) | Fit Bar Tape £15 (£25 with own tape) |
| Brake Service from £60 | Gear Service from £60 |
| Hydraulic Brake Service from £90 | Single Gear & Brake Service £30 |
| Fit Rack £15 (£25 with own rack) | Covered Chain Guard Rear Tube/Tyre from £15 |
*Tubeless setup requires setup kit, tyre & labour. (Tubeless setup kit includes: Sealant, rim tape, valve).
*Velosport reserves the right to refuse service when there is reasonable doubt for safety or compatibility of supplied components.
*We always aim to complete work on the day of booking, unless parts need to be ordered, or an unforeseen issue occurs.
*Bikes left in store for extended periods of time may be subject to a storage fee.
Crash Assessment £50
For bikes that have been in an accident, we offer a crash assessment service. This service covers a full inspection of the bike, highlighting any noticeable damage and estimated cost of repair. The crash report will then be emailed to you.
*Please not that we will not carry out any repairs at the time of conducting the crash assessment. Any work to be carried out will need to be booked with our mechanics, unless otherwise specified.
*If your bike is made of carbon fibre, or has carbon fibre parts, we cannot guarantee the structural integrity of these parts.
Carbon Repair
If you have a carbon bike that has been damaged, we work with a third-party carbon repair workshop that can carry out health checks and repairs.
Estimated costs for carbon repairs are as follows:
Labour costs for stripping the bike to the bar frame £190
Carbon health check and shipping £300
Repair work will be invoiced on a case by case basis. Additional admin costs will apply.
*Please note that health check and labour costs are non refundable if the bike is afterward deemed as unrepairable.